We're touting 2018 as the Year of of the Woman. Though women have made significant strides in the previous few decades regarding pay equality, workplace environment, and being in charge of their bodies, we are still finding ourselves at a crossroads. Throughout the final months of 2017, a fire started burning in the hearts of women, united by stories of ways in which they have been wronged. Collectively, millions of women decided they no longer were going to allow certain behaviors to be tolerated. With this mindset, strong women began emerging as leaders in several different endeavors aimed at increasing positivity for all of womankind.
Now, a few short weeks into 2018, we are once again reminded of the power of body positivity, confidence, and leading an active lifestyle via the newest collaboration between the Kate Hudson fronted athleisure juggernaut Fabletics, and powerhouse songstress Demi Lovato. Together, this team of talented females is showcasing a new capsule collection unapologetically designed for every female body in motion. Though this is the third collection designed by Lovato for Fabletics, she emerges as a more confident designer, touting at the press release for the company, "I've learned so much from working with the Fabletics design team the past year and really wanted to take it to the next level with this collection now that I'm more confident with the process." This newfound confidence, itself a testament of the values that Fabletics stands for, is absolutely contagious, and is undoubtedly a factor in the huge success of this famed collaboration.
Since the launch of the company in 2013, Fabletics has aimed its focus at inspiring women to maintain an active lifestyle, and to bring affordable, thoughtfully designed, high quality, and aesthetically beautiful workout clothing to women of all shapes and sizes. With such an inclusive and powerful mantra, spokeswoman and co-owner Kate Hudson has been the eponymous embodiment of the brand's mission statement. A vital member of the team, Kate has put her stamp on all aspect of the company, and has encouraged women taking control of the company via transparent business practices, a strong community of fans, and totally honest online reviews. Now, with the addition of Demi Lovato, the brand is harnessed by yet another strong, involved, opinionated female.
The newest Demi Lovato collection, aptly named the Your Own Beat, not only features amazing leggings, tops, and sports bras, but also marks Lovato's first foray into footwear, and athletic accessories. As Fabletics recently expanded their merchandise to include an introductory capsule collection of shoes, Lovato's styles add to this expansion with styles and needs specifically addressed by customers. By utilizing customer feedback and insights, Demi was able to incorporate this gathered information into the creation of shoes for every athletic activity, every female form, and every aesthetic preference. Shoes in the Demi Lovato collection range from sneakers for your kickboxing classes, to comfortable slip ons perfect for running all-day errands. Clearly, Demi and the team have agree that women on the go not only desire, but also deserve, stylishly beautiful and functionally sound footwear options for their busy lifestyles!
As a woman who is constantly on the road, on the go, and on a mission, Demi also understands the need to keep personal belongings neatly organized in a bag that is comfortable, stylish, and easy to tote around town. In a practical yet fashion forward move, Demi has also designed two athletic bags for her newest collaborative effort. You won't find dainty crystal emblazoned purses here though. Demi is all about functionality. With hidden pockets, functional zippers, mesh compartments, and adjustable straps, the Parry Duffle and Boxer Backpack are both bags that pack a punch. A perfect example of Demi's genius when it comes to designing practical items for women on the go? The Parry Duffle features an internal shoe bag for mid-day shoe changes, and bottom straps that can hold a yoga mat. Talk about multi-tasking; now your bag can work as hard as you do!
Each clothing article in this capsule collection is meticulously pored over to ensure functionality in motion, and to allow women to feel confident, sexy, strong, and comfortable during all levels of activity. Lovato, herself a body-positivity role model, slays the game with matching pieces that consider the not-so-pleasant aspects of athletic wear, including chafing, sweating, and bulging. These aspects of athleisure, often overlooked, are very real motivators for women when choosing work out clothing, and all the more reason to resolve these real-world issues! Thus, this collection features moisture-wicking fabrics, all-way stretch, and flat paneled anti-chagin stitching! No wonder pieces sell out so quickly!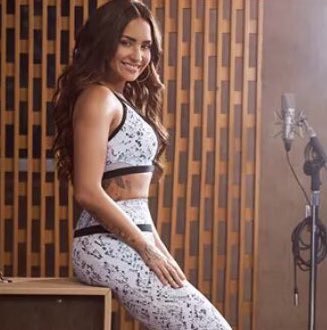 With pieces designed to be worn separately, or as complete head-to-toe outfits, the Your Own Beat collection comes in classic black, as well as a plethora of flattering muted jewel tones. Perhaps one of the funkiest outfits, the Andante, (pictured above), features high waisted Powerhold leggings, and the classic Saoirse sports bra in a Mojave-inspired print that is perfect for pairing with various sneakers, jackets, and bags. As with all pieces, mixing and matching creates several varied looks, and each piece is a knockout on its own!
Growing as a designer, and a strong woman, Demi has once again proven to have her finger on the pulse. With the launch of this newest capsule collection, she successfully blends her own personal sense of style, along with the feedback of her fans and customers, and creates an aesthetically beautiful, functionally sound collection of athletic wear. What else would you expect from a woman who knows women? After all, when you're a strong woman who creates clothing for other strong women, in collaboration with a community of courageous and active women, the results are spectacular. The launch of this collection officially marks the beginning of the Year of the Woman, and we can't wait to see what's in store next!