| | |
| --- | --- |
| Real Name: | Randy Chrisley |
| Birthday: | N/A |
| Net Worth: | $100.000 |
| Height: | 185 cm |
| Occupation: | American Real Estate Businessman, Brother to Todd Chrisley |
It isn't always that the fame of a family member extends to other relatives. In some cases, certain members of a celebrity or well-known family manage to live their lives under the radar. In the Chrisley family, this happens to be the case.
The Chrisley name has been made quite popular, thanks to the Real estate tycoon and reality TV personality, Todd Chrisley. Todd's fame has rubbed off on many members of his household, but many members of his extended family are still unknown to the public. One of these relatives is Randy Chrisley.
Randy Chrisley is a brother to Todd Chrisley. However, Todd's fame has overshadowed his over the years, and not too many people actually know much about him. He first gained some public attention after he appeared on his brother's TV series, Chrisley Knows Best.
Early Life & Education
Randy Chrisley was born in Westminster, South Carolina. His father is Gene Raymond Chrisley, a US Army Veteran, and his mother is Faye Chrisley, a Westminster High School graduate. Randy's exact birth date isn't known, and details about his childhood are blurry. However, he is the younger brother to Todd Chrisley. They were raised in Georgia. The pair also had another brother Derrick Chrisley, who sadly passed away after just four months in 1971.
Randy Chrisley attended the West Oak High School in 1984. After high school, there is no information indicating whether or not Randy furthered his education.
Career
Like his brother Todd, Randy Chrisley started out working in the real estate industry at a very young age.  While his brother found success in his career, Randy's career doesn't seem to have gained traction. Over the years, Todd Chrisley's success brought him fame, while Randy's career saw him fade out behind the scenes.
Randy began working as an agent at RS service in August 2001 and has been a part of it ever since. Randy may have other business dealings, but no information gives any indication of such. Meanwhile, Todd Chrisley owns a real estate management firm, Chrisley Asset Management, and a TV series, Chrisley Knows Best. However, court files show that Todd's estate management company has been in bad shape for some years now.
Chrisley Knows Best
Chrisley Knows Best is a family reality TV series that follows the lives of the real estate giant Todd Chrisley and his family. It started to air on 11th March 2014 on USA Network. So far, the series has had over seven seasons. Apart from Todd, other recurring cast members include his wife Julie, and his children Lindsie, Chase, Savannah, and Grayson. Although Randy has appeared on the show, he is not listed as a cast member. Many have said that despite the name of the show, it focuses more on Todd Chrisley's immediate family, rather than the entire Chrisley clan.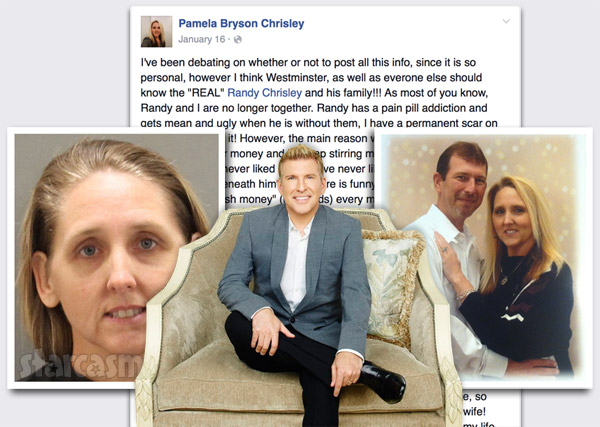 Personal Life
Randy dated his now estranged wife Pamela for a short time before the pair got married in August 2012. In 2014, Randy received the sad diagnosis of stage four cancer, and he was admitted to the hospital. Given the seriousness of his health issues, many thought that Randy Chrisley would not survive it.  However, thanks to the support of family members like his brother Todd, and extensive chemotherapy, Randy soon made a quick recovery and now lives a healthy life.
In 2016, Randy's marriage faced some challenges after his wife raised accusations of infidelity. His brother Todd Chrisley was quick to defend him, claiming that Pamela was, in fact, a gold digger extorting the Chrisley family. After the divorce was finalized, Pamela got arrested on charges of trying to extort Randy. Authorities disclosed to ET that she was arrested on 4th March, and was charged with 2nd-degree harassment. Pamela was later released that same day on a $1,000 bond. According to incident reports obtained by Fox Carolina, Pamela threatened to "sell a story to the National Enquirer that would hurt the Chrisley name unless hush money was deposited into her bank account."
Todd Chrisley made her arrest known to the public after he shared Pamela's mugshot on his Instagram page on 5th March 2016, with the caption;
"Pamela has been involved in a scheme with other individuals in GA and SC to extort hundreds of thousands of dollars from our family because my brother filed for divorce from her. Our family has endured this harassment for many months and had to stay quiet to let law enforcement from two states to do their job."
Randy and Pamela did not have any children together. However, Randy has a son from a previous relationship. Details about his son, as well as the identity of his mother have been kept under wraps over the years.
Later on in 2016, Randy attracted some bad press after being arrested for shoplifting in South Carolina. According to the report, Randy Chrisley stuffed several bags of candy that were worth about $22. As at the time of Police arrival, Randy was already in a queue but later left the line and started walking quickly towards the side side of the store, pushing a buggy.
At the end of an inquiry, Randy admitted that he had put the candy in his pants, and intended to walk out of the store without paying for them.
Net Worth
Randy Chrisley is known to be a businessman. He must have earned some money through his business career over the years. Although there is no specific information as to his earnings, Randy Chrisley's cash flow is estimated to be over $1 million. Meanwhile, his brother Todd Chrisley is said to have a fortune of about negative $5 million since he is facing bankruptcy.
Todd Chrisley has had financial challenges for several years. Despite this, the real estate mogul and fashion icon keep up with his lavish lifestyle. He still owns a 30,000 square foot house and is alleged to be spending over $300.000 on his clothes. He is involved in a $45 million case, including a land domain that wasn't successful. Todd filed for insolvency in 2012 and claimed to have $4.2 million worth of assets and about $50 million in debt.
Conclusion
Randy Chrisley isn't the most popular Chrisley family member. Unlike his brother Todd Chrisley, Randy leads a very private life. These days he is busy taking care of his health and business away from public attention.