| | |
| --- | --- |
| Real Name: | Samuel H. Morlan Greisman |
| Birthday: | December 2, 1987 |
| Net Worth: | $5 million |
| Height: | N/A |
| Occupation: | American Director, Writer and Producer, Son of Sally Field |
Sam Greisman or Samuel Greisman is the son of American actress Sally Field. He is her son from her second marriage. While he carved out a decent career as a writer and producer, most people recognize him as Sally's son.
In 2019, he accompanied his mother at the 2019 Kennedy Center Honors, when he was on hand at the state department dinner. The ceremony honored the 2019 recipients, and Sam got a chance to interact with people like Linda Ronstadt, Tom Hanks, and Nancy Pelosi.
How much do you know about him? Let's talk about this celebrity child.
Who Is His Mother?
Sam is the son of Sally Field. Born Sally Margaret Field in November 1946, she is an American actress. Over the years, Sally has won several awards and nominations, including an Academy Award two times, Primetime Emmy Award three times, Golden Globe Award two times, and even a Cannes Film Festival Award for Best Actress.
Born in Pasadena, California, Sally comes from an acting family. Her mother, Margaret Field was also an actress, while her father, Richard Dryden Field, served in the Army during World War II. Her parents divorced in 1950 when Sally was a young child, and her mother later remarried Jack Mahoney, an actor, and a stuntman.
While growing up in an acting family might be great, Sally had an awful experience. In her 2018 memoir, she revealed she was sexually abused by Mahoney during her childhood.
As a teenager, she attended Portola Middle School and Birmingham High School in Van Nuys. There, she finished school with financier Michael Milken, actress Cindy Williams, and talent agent Michael Ovitz.
Sally began her acting career on television, starring in comedies like Gidget, The Flying Nun, and The Girl with Something Extra.
In 1976, she got national recognition for her performance in the movie Sybil, which won her a Primetime Emmy Award for Outstanding Lead Actress. In the 1970s, Field also appeared in movies like Stay Hungry, Smokey and the Bandit, Heroes, The End, Hooper, and more.
In the 1980s, she won two Academy Awards, once for Norma Rae and once for Places in the Heart. During this period and the 1990s, she also appeared in movies like Smokey and the Bandit II, Absence of Malice, Kiss Me Goodbye, Steel Magnolias, Soapdish, Mrs. Doubtfire, Forrest Gump, and more.
In the 2000s, she returned to television and got a recurring role on the NBC medical drama ER. For this role, she won the Primetime Emmy Award again.
Over the years, Sally has attracted attention with her movies and her colorful personal life. From 1968 to 1975, she was married to Steven Craig and has two sons with him, Peter Craig and Eli Craig. The latter is an actor and director.
Then, from 1976 to 1980, she had a relationship with Burt Reynolds, during which time they starred in four films together. Speaking about Reynolds years later, she said, "He was not someone I could be around. He was just not good for me in any way. He had somehow invented in his rethinking of everything that I was more important to him than he had thought, but I wasn't".
In 1984, she got married to her second husband, Alan Greisman, with whom she has her son Sam Greisman. The two divorced in 1994.
Quick Bio
Now let's go back to Sam, or Samuel Greisman. Born in December 1987 in Los Angeles, California, he is a writer, producer, and son of Sally Field. He is the youngest child of an American actress. Sam is known for projects like Dinner with Jeffrey, After School, and Playing Men.
Greisman studied at NYU and Columbia, but now resides in Los Angeles. At NYU, he majored in communications. During his first year after graduation, Sam worked for New York Magazine, and also wrote for Towleroad, a leading online news source for politics and pop culture.
He enrolled at Columbia University's renowned film school in 2013 and graduated in 2017. He then moved back to Los Angeles.
Fun fact: Field and her sons are tight-knit. She is close with all of them, no matter if they are from her first or second marriage. When she is out with friends, the famous actress keeps the phone on the table in case any of her sons call.
Here is another fun fact: Sam's sister-in-law is Sasha Williams or the actress we know as the Yellow Power Ranger. She married his half-brother Eli in 2004 and they have two children together.
The movie Dinner with Jeffrey is one that Sam wrote, produced, and directed. The movie is all about a teenager who struggles with coming out of the closet because his gay uncle tries to teach him about the gay lifestyle.
The plot of the movie is based on his life. Sam came out at 19 years of age. In one interview, he said, "The short is based on something that happened to me shortly after I came out at 19".
He then added that the titular dinner scene was the easiest thing for him to write because it was basically exactly what happened to him. Yet, at the same time, turning reality into something that felt like a story was a huge challenge.
His mother Sally is his biggest supporter. In 2012, he presented his mom with the Ally for Equality Award at the Human Rights Campaign Gala.
Sam says, "Being gay was just one more thing she loved about me. She couldn't be more supportive of me; if anything, I wish she was a little less supportive of me". Yet, Sam joked there were going to be things about his dating life he will not share with her.
In one interview with Oprah Winfrey, Sam said, "It's important to have a parent speak about raising a magnificent, proud, intelligent, funny, lovable, sexy, gay son. And there are so many parents who are frightened of that and who don't embrace their children as they struggle to embrace who they are, what nature intended them to be".
His Mother Plays A Matchmaker
There is no better proof of how much his mother supports him than playing a matchmaker. Back in February 2019, Sally tried to set up her son with the Olympic figure skater, Adam Rippon.
Sam and Adam posted a picture of themselves together, with Sam captioning the photo, "Thanks, mom". Greisman spoke later about meeting Adam Rippon, "I was very shy, and a little embarrassed, but he is a very cool nice guy. It was totally fine".
When pressed about whether they could become a thing, Sam said, "Adam is very busy, he hasn't got time to be dating or doing anything like that. He is conquering the world right now".
And while fans might be dreaming of a pairing between Sam and Adam, the former is actually in a relationship. He recently took his boyfriend Armand de la Torre as his date to the Kennedy Center Honors.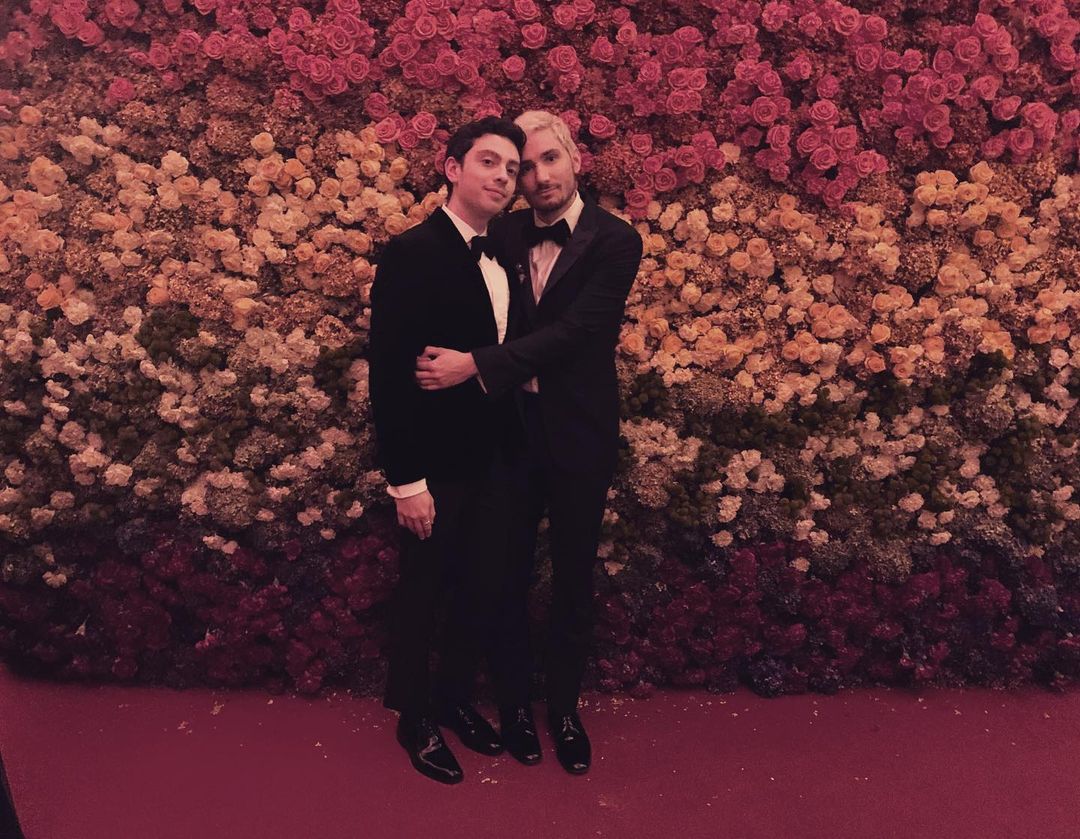 Sam later joked on Twitter that "Tom Hanks called my boyfriend 'kid' tonight and I think he is going to leave me now".
Is he on social media?
As we said before, Sam has been active on several social media platforms. He has a Twitter and an Instagram account. On the latter, he has more than 11k followers and more than 48k followers on the former.
His Twitter bio looks fun, "Sam Greisman, Writer, Virgin who can't drive".
Net Worth
How much is the net worth of Samuel Griesman? He is a director, writer, and producer. He has worked in the entertainment industry for several years. And during that time, he amassed a decent amount of wealth. Per some sources, as of April 2023, Sam Greisman has a net worth of more than $5 million.
That is nothing compared to his mother, the famous actress Sally Field. She has a net worth of more than $55 million. But hey, she is an Academy Award-winning actress.