| | |
| --- | --- |
| Real Name: | Wylda Rae Johnson |
| Birthday: | July 7, 2010 |
| Net Worth: | N/A |
| Height: | N/A |
| Occupation: | Daughter of Sam Taylor-Johnson and Aaron Taylor-Johnson |
When you have celebrity parents, you are always in the spotlight. And in such cases, it is often hard to keep your life private. But somehow, Wylda Rae Johnson manages to stay away from the media spotlight just enough. She is the first daughter of actor Aaron Taylor-Johnson and Sam Taylor Johnson.
Wylda receives a decent amount of media coverage as a famous child. Her parents are as well. Let's find out more about them.
Who Is Her Father?
Born Aaron Perry Taylor-Johnson in June 1990, he is an English actor. Aaron is best known for portraying the title character in Kick-Ass in 2010 and the sequel in 2013. He is also famous for portraying Pietro Maximoff aka Quicksilver in the Marvel Cinematic Universe in the movies Captain America Winter Soldier and Avengers Age of Ultron.
Born in 1990 in High Wycombe, Buckinghamshire, England, he is the son of civil engineer Robert Johnson and his wife Sarah. Aaron began appearing in movies early on when he was just six years of age.
Aaron Johnson has a sister called Gemma, who appeared in a small role in the 2002 movie Tom & Thomas. Johnson is Jewish and got his education at Holmer Green Senior School.
Aaron's first big break came in 2009 when he appeared in the biopic movie Nowhere Boy. There, he portrayed John Lennon and got critical acclaim. He would then go on to appear in the Olive Stone movie Savages in 2012. The English actor would portray Count Vronsky in the 2012 adaptation of Anna Karenina by Joe Wright.
Aaron is a celebrity who began his acting career early on. He began appearing and acting at the age of six, starting in the London production of Macbeth.
After he left the Marvel Cinematic Universe, actor Aaron Taylor Johnson got the role of Ray, a menacing Texan in Tom Ford's thriller, Nocturnal Animals. For that role, he won the Golden Globe Award for Best Supporting Actor in Motion Picture. That role did win him a BAFTA nomination, but not an Academy Award nomination.
Her Parents' Relationship
Wylda Rae Johnson's parents are a curious case in Hollywood. Aaron met his future wife Sam when he auditioned for a movie as a teenager. She was the filmmaker of the movie. While they insist there was no funny business on the set of the movie Nowhere Boy, their relationship began moving quickly.
Sam jokes that he told her he was going to marry her as soon as they finished filming. Recalling the event, Aaron says, "And a year to the minute after we met, exactly one year to the minute, I got down on one knee and asked her to marry me". Fun fact: before that, they had never been on a date or even kissed.
Sam was the director of John Lennon's biopic Nowhere Boy, a movie in which Aaron portrayed the main character. The two met at the audition for the movie in 2008. He auditioned at her home due to his limited schedule while filming Kick-Ass.
Sam says, "It was so inconvenient. In the end, I was like, OK, he'll have to come to my home. I opened my door to John Lennon. I instantly knew he was the guy".
At the time of their first meeting, Aaron was just finishing his teenage years, he was 18 or 19 years old. Sam, at the time, was 42.
In September 2008, Sam finalized her divorce from her previous marriage. Because their chemistry on-set was incredible, the couple couldn't wait to finish filming and officially begin their relationship.
Speaking about their age difference, Aaron says, "When I met Sam I'd already lived a life far beyond that of most of my contemporaries. I didn't relate to anyone my age. I just feel that we're on the same wavelength".
The two officially tied the knot on June 21, 2012. Aaron celebrated their 10th wedding anniversary in 2022 with a post on Instagram.
He dedicated it to his wife, writing on June 22nd, "Yesterday was the most beautiful day, summer solstice, our 10th anniversary, we renewed our vows to one another and confessed our love in front of our nearest and dearest friends and family. It was a celebration of love and joy! A decade of marriage. It was a magical unforgettable day. We are blessed beyond belief".
Quick Bio
Now let's take a look at their celebrity daughter, Wylda Rae Johnson. Who is she? When is her birthday? She is the first daughter of the famous couple and receives quite a lot of media coverage as a famous child. How much do we know about her early life?
Yet, because she is still little, we know little about her. She was born on July 7th, 2010. Wyldas' birthplace is London and has British nationality. Her Zodiac sign is Cancer, and her dad was only 20 years old when she was born. At 20, he became a father for the first time, while her mother, was 43 years old.
While her father became a parent at a young age, he remains a caring one. He loves reading to his baby girl. Fun fact: Once, at an audience at Hammer Museum, he read one of his daughter's favorite books.
In the summer of 2020, Wylda suffered an accident and broke her arm. Her mother, Sam, revealed it in a post on social media. While she didn't show her daughter's face in the post, she talked about the injury.
Wylda Johnson has three siblings. Her biological sister Romy Hero, and two half-siblings from Sam's first marriage. Her half-siblings are Jessie Phoenix and Angelica Jopling. Sam got them with her ex-husband, Jay Jopling.
Wylda's parents are quite popular and famous in Hollywood. One of the big reasons for that is their huge age gap. Yet, despite their significant age difference, they are not bothered by their love life. Instead, they constantly encourage each other.
Fun fact: Aaron revealed on Friday Night with Jonathan Ross in 2010 that they kept the sex of their first daughter a secret when Sam was pregnant.
Sam, for her part, tries to keep her younger daughters away from the public. She does the complete opposite of what happened with her first daughters.
Is She On Social Media?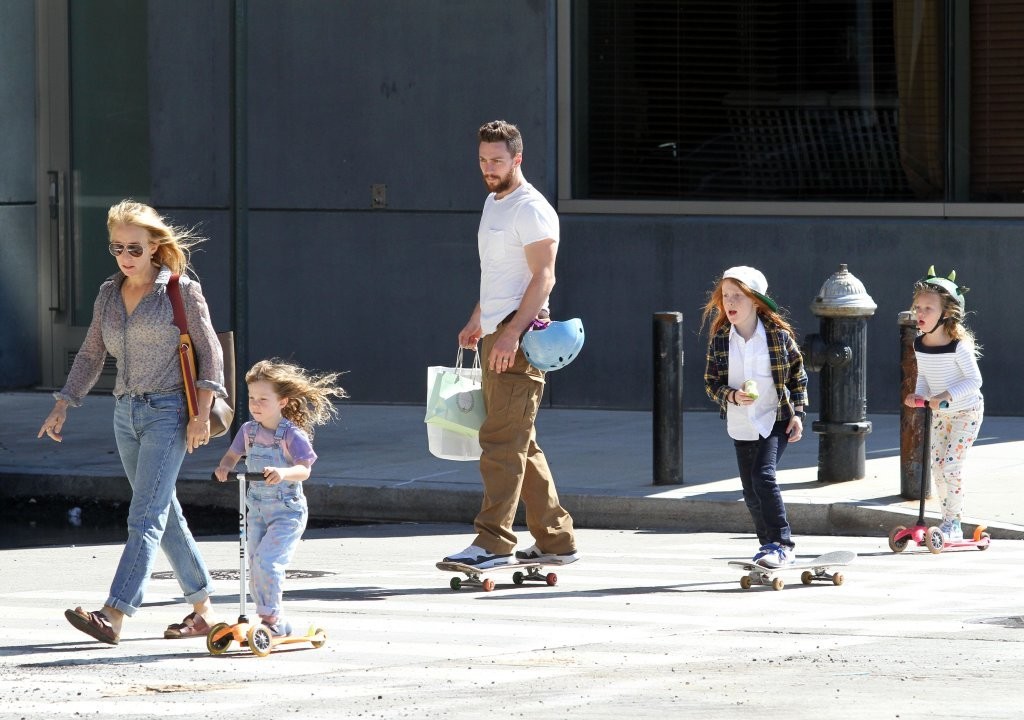 Wylda Rae Johnson is still a young celebrity child. She will soon enter her teenage years. And while many teenagers are on social media, she is away from it. Both of her parents are extremely protective of their children.
Aaron and his wife Sam Taylor Johnson are quite popular in the public eye. But they want to keep their children's lives secluded.
They rarely post pictures of their younger daughters on social media. And when they do, they hide their face.
Speaking of social media platforms, Aaron Taylor Johnson has 343k followers on Instagram. His wife has almost 200k followers. That is quite a large number of followers.
Net Worth
If she is too young to be on social media and too young to have a career, Wylda is also too young to earn money, right? Of course. The young girl is still years away from starting a career.
Luckily, she has celebrity parents that take care of the home. Aaron is quite a successful English actor, with a net worth of more than $16 million. And Wylda's mother Sam has a net worth of $20 million.
Together, the famous actor and British filmmaker have more than enough wealth to allow their daughters to live superstar life.