Slingshots, also called wrist rockets, have a long history of usage since centuries ago. It is also relevant in the modern age due to the benefits they come with. This also has to do with their ease of use and accuracy. It is no surprise that they are ever-present in backpacks during hunting trips.
When procuring a slingshot, it is crucial to look for the right strategies to select. It helps you in finding the one which is most convenient and excellent. Most brands are effective and worthwhile hence making you not sure about the choice to make. Learn the essential attributes which make a great slingshot, and you will never go wrong.
The Frame Material
When making a selection, be keen on the type of material. It is where you look for the aspect of weight. Many manufacturers observe this so that it becomes easier to carry it around as you go deep into the woods. However, we know what lightweight means at times-the fragility issues. Therefore, it is necessary to look past the weight and focus on the strength in pieces.
This is where you target the aluminum-made slings. The material, however, needs to match the standards of the aircraft-grade aluminum as this comes with considerable strength despite being less weighty. The other option is going for the material, which is a combination of nylon filled with glass. These slingshots end up being resistant to cracks or warp as the wooden ones tend to. They are also better than most plastic frames.
The Sight
The success of your hunting depends on your ability to focus on your target. Side shooting will only scare away your animal or bird, which you have been tracking for a long time. This is why every shooting item, from shooting guns to crossbows, has scopes to aid you in zooming in on your target.
Due to the design of slingshots, it is impossible to have any additional accessories. Therefore, what you can look for is whether it has good sight. The modern models come with a sight ring at the handle, which helps a lot. It works in a way that it holds the laser targeting device, thus making the shooting accurate. This accuracy can be life-saving in a survival situation as you want to make your few shots fruitful.
Compare Different Brands
It is essential to compare as many slingshot models as you can. These are reliable guides online which contain relevant information on the different types in the market. As a buyer, limiting yourself to one brand can deny you a golden opportunity of finding others that can work best for you.
What the online guides do is describe the top brands which you can target. In a comprehensive article, you will get clear pictorial information on the several types hence making you see what it describes. Through this article, you end up feeling like you are doing window shopping as everything is clear. After getting a lot of information, sit down and determine which option serves your interests well.
This is where you put focus on the functionality aspects and your preferences. Find something which you feel proud of buying and carrying around during hunting tours. This highly gives you the motivation to use it hence spicing your hunting experience more.
Efficient Handle
As you take a shot on a bird or rabbit a few yards in front of you, it may feel so sure that you will hit the target right. It can be the case only if the main features of the slingshot are efficient enough. The handle needs to feel stable as you pull the sling. Wavering grips make your shot inaccurate hence making your chances of getting something out of the hunting slim.
Look for the handles which are well-contoured or rough. Some are even rubber-made so that the hold can be firm. This helps make you not need to add more pressure in the grip, which often makes the hand not well-relaxed.
The Wrist Brace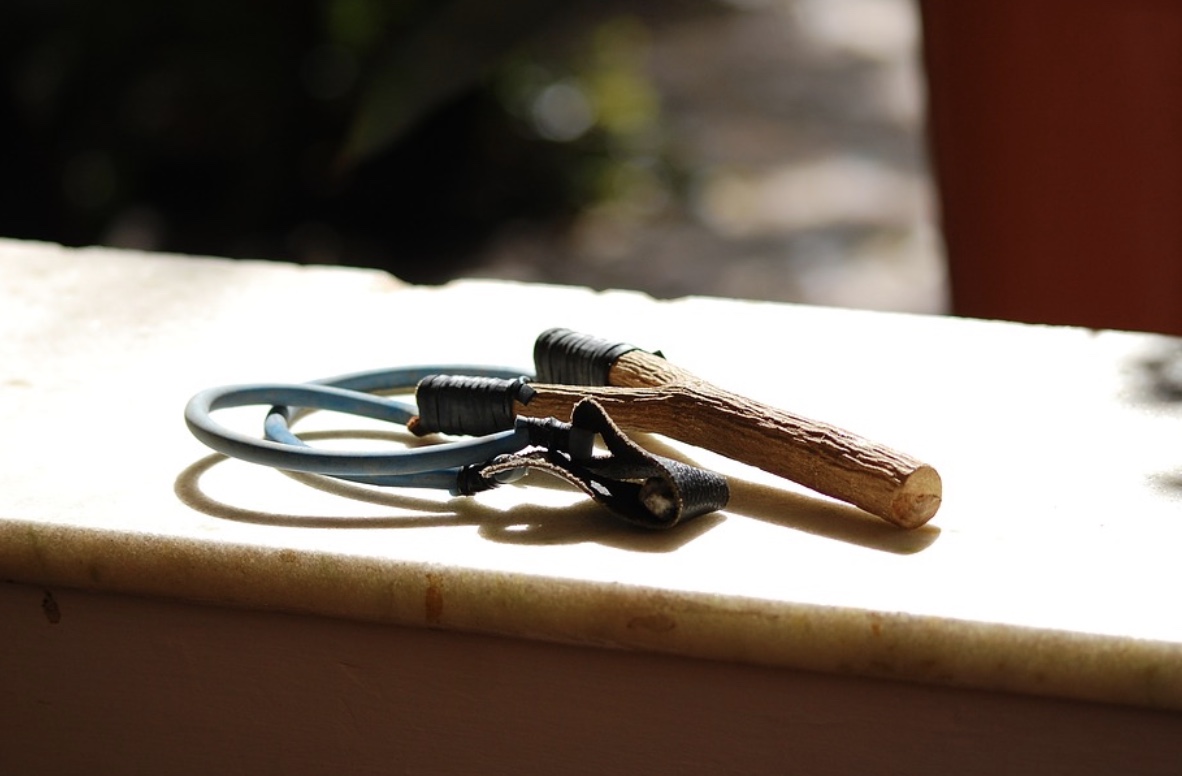 What is the relevance of having a wrist brace? This part of the slingshot is essential in making it not tilt back as you take your shot. It is even more relevant when you have a relatively more oversized slingshot, which is more unstable. What restores stability is a wrist brace. It also relieves pressure off the wrist.
Slingshots are very relevant in the modern world, especially when it comes to hunting missions. When procuring one, there are key features to look for, such as the weight and strength of the importance and sight. Also, pay much focus on the efficiency of the handle and the wrist brace.