Coloured contact lenses are a fun way to change up your look, but sometimes you might need help finding the right coloured lens to suit you. Especially for those with dark eyes, coloured lenses can sometimes not show their true colour when on the eye. This is because certain coloured lenses will have less pigment, allowing your natural eye colour to blend with it for a natural look. These types of lenses aren't always best suited for those with dark eyes, as the darkness of the iris can show through the lens and distort the colour. In this article we go through the best coloured contact lenses for dark eyes.
Who can wear coloured contact lenses?
Many people choose to wear coloured contact lenses. Some wear these lenses for the odd special occasion, whilst others choose to wear coloured lenses every day. Whichever your preference, choosing the right colour and lens for you is important to achieving a comfortable fit and a flattering look. A contact lens optician will prescribe you the best-coloured contact lens to suit you, your eyes, and your lifestyle.
Can I get prescription coloured contact lenses?
Yes, prescription coloured lenses are widely available; they can be found both in stores and online. Most brands will allow you to order both prescription coloured contact lenses and non-prescription (plano) or zero power coloured contact lenses. Coloured lenses can be enjoyed by everyone, regardless of whether they require a prescription or not.
Do I need a contact lens fitting for coloured lenses?
Zero power coloured lenses are just for fashion, and although these lenses don't correct any refractive errors, you should still get a contact lens fitting before wearing these lenses. This is important because if you choose lenses that are the wrong size for your specific eye measurements, the lens will not fit comfortably. A lens that is too big for your eyes could move around and even fall out. A lens that is too small for your eyes could cause blurriness, discomfort and even damage to your eyes. That's why it's vital to get a contact lens fitting for all types of contact lenses.
Can coloured contact lenses work on dark eyes?
Yes, those with dark eyes can still wear coloured lenses. Alastair Lockwood from Feel Good Contacts says, "Darker eyes need a more opaque lens for the colour to show more vividly." You could still wear less opaque lenses, but they will only give a subtle colour change. For a more noticeable colour change, choose opaque lenses.
Which coloured lenses most suit brown eyes?
There are no set rules around which eye colour suits you. The colour that you choose will be a personal preference. Brighter colours such as blue or green tend to stand out more on those with lighter-coloured hair, however, these colours can equally work well on those with darker or medium toned hair too. Learn more about the right coloured contact lenses for you.
Which coloured lenses are best for dark eyes?
The best coloured lenses for dark eyes will depend on the type of effect you wish to achieve. Some lenses will provide a natural and subtle colour change, these are perfect for everyday wear or even special occasions (try a daily disposable for occasions, as these can be thrown away). Whilst others cover the iris completely with colour to provide a more striking difference.
Air Optix Colours are monthly lenses that provide full coverage. These opaque coloured lenses are available in 12 colours and are perfect for dark eyes.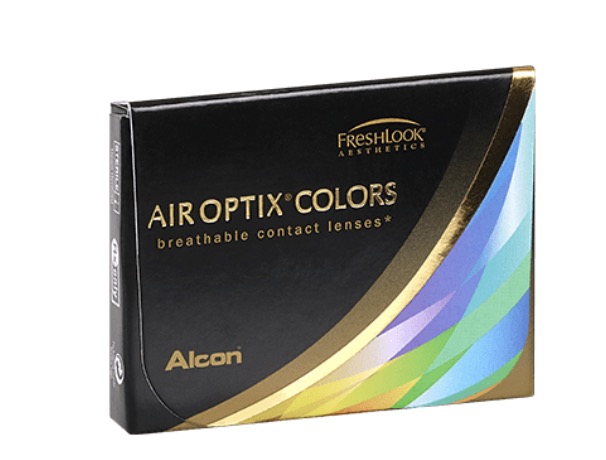 Image source: Feel Good Contacts
FreshLook Colors is another opaque coloured lens to try out. This monthly lens is available in 6 colours.
Image source: Feel Good Contacts
How do I look after coloured contact lenses?
Daily disposable coloured contact lenses are the most convenient and fuss-free option. This is because daily disposables can be worn for a full day before being thrown away before bedtime. Two weekly and monthly coloured lenses are more affordable, but require a little more effort, as these lenses must be cleaned and stored after each use. It's vital to keep Two weekly and monthly lenses clean and stored properly to avoid the potential for infection.
Where can I buy affordable coloured contact lenses?
Try coloured contact lenses out and see how easily it can change your look. Just like bags, shoes and ties, our eyes can also be accessories. It's usually much cheaper to buy coloured contact lenses online. All you need is a valid contact lens prescription and your preferred contact lens brand. Then all you need to do is enter your prescription details (or don't, if you want zero power lenses) then choose your colour, add to cart and checkout.