Welcome to the 21st century, where everything you need to know is a few clicks to know – thanks to technology (Google takes the credit on this one). Even better, voice automation systems such as Apple's Siri or Amazon's Alexa can process human language and provide information retrieval requests. While millennials have primarily benefited from technology – social media and the likes – seniors have something to brag about. However, many seniors are less inclined to use technology. They don't think it adds any benefits to their lives, especially if they've never interacted with a tech gadget. That said, seniors too can benefit from technology. From education to connectivity, here are a few ways technology is beneficial to older adults.
1. Safety
A growing body of research shows that 80 to 90 percent of seniors prefer staying in their own homes as they age. While this isn't the ideal option – especially if they live alone – a few technological solutions can help improve their security. The dedicated team from Arcare says that a stay-at-home senior needs to have a Personal Emergency Response System (PERS). This gadget allows a person to call for assistance with the push of a button. If you have a senior loved one living alone, you'll have peace of mind knowing the PERS can expedite a call should an emergency arise.
2. Socialize and Network
Thanks to the internet, the world is now a global village. Today, you can communicate with virtually anyone from every part of the globe. Seniors can leverage the power of smartphones and tablets to stay in touch with their loved ones. Additionally, seniors can use these devices for their personal needs. Because of reduced eye visibility, they can use read-out-aloud features in smartphones instead of struggling to read tiny words. And with social media, video conferencing applications, and texting, seniors can stay connected with their families and friends. This ease of communication can assist seniors in dealing with feelings of loneliness or depression.
3. Control Finances
Seniors are prime targets of scammers who want to steal their money in different ways. These fraudsters will pose as "financial advisers" in an attempt to lure seniors into money-making scams. Fortunately, you can take precautions to ensure your senior loved one doesn't fall prey to such people. Using a laptop or smartphone, you can monitor your senior loved one's finances in real-time to stay ahead of scammers. Besides checking bank accounts for any suspicious transactions, seniors can sign up for alerts from fraud monitoring companies. This way, they can monitor any unauthorized charges or learn if a third party is trying to access their accounts.
4. Buy Commodities Online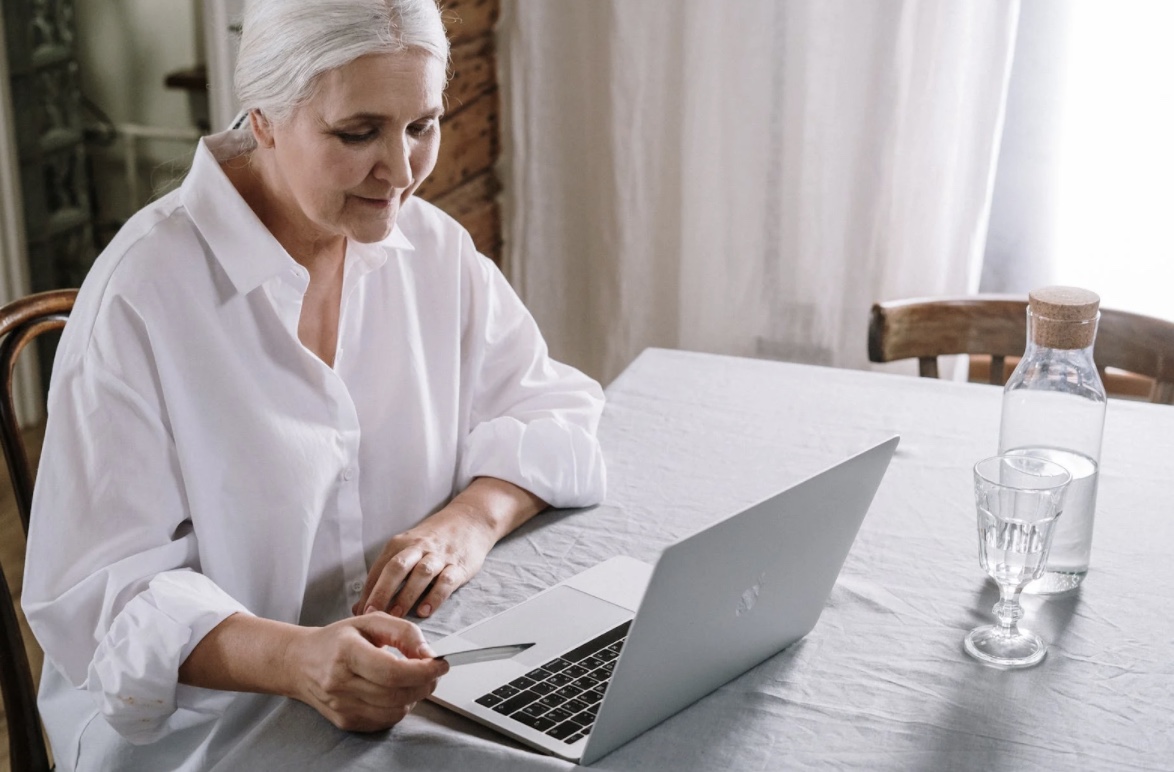 Gone are the days when retail stores used to mail paper advertisements to residents. Thanks to the power of e-Commerce, a senior can choose where to shop and which store offers the best prices. Most e-Commerce businesses have mobile applications that allow seniors to track their purchases. What's more, they can set reminders when they need food or other essential items. Also, many e-Commerce platforms offer home deliveries. This way, seniors can buy food, medications, or home essentials at the comfort of their homes.
6. Exercise – Online Fitness Videos
Online video sharing platforms such as YouTube have many fitness videos to help seniors stay in shape. Most nursing homes have adopted online videos in their programs to help their senior clients remain fit. Besides YouTube, seniors can also use fitness-based applications available on both Android and iOs devices. Companies such as Nintendo also offer motion-controlled video game systems. These games provide an opportunity for older adults to engage in light physical activity from their homes. To keep their wits sharp, seniors can try games such as Tetris or Solitaire to improve their cognitive abilities.
7. Health Management
Today, information is only a few buttons away. Seniors can use online research to learn how to improve their diet and build efficient exercise routines. If your senior loved one has a health condition such as high blood pressure, they can use smart wrists' to monitor their health status. These devices can alert caregivers and seniors to potential health issues before they become severe. What's more, some medical websites provide medical management tools to help seniors manage their daily medication. This way, they can avoid complications that risk damaging their health and well-being. From blog sites detailing the best diet for seniors, to medical sites with information about specific medical conditions, there are a ton of useful resources online for elderly people.
Today, more than ever before, technology is improving our quality of life every day. This makes it possible to live an independent and more monitored life, even for the lonely senior. The above benefits are just a tiny fraction of how technology can assist seniors in their day-to-day activities. From buying food online to health management to security, seniors have a lot to benefit from technology.