Summer is here, and now many people want to spend more time outdoors with their family, friends, and pets. However, when some homeowners take a step outside, they cringe at the sight of their yards because all they see are dead plants or dirty patio furniture. You can agree that this isn't acceptable at all, especially if you are planning to throw a barbecue party on a warm summer day. That being said, decorating your yard isn't really that hard, all you need to do is to find easy and simple ways to improve your outdoor space. Keep reading for inspiration and fun ideas.
1. Clean up Your Outdoor Space
Before you decide on what you can add to your yard or come up with any decoration ideas, you will need to first declutter and clean up the place, and get rid of all the things you no longer need or use. Cleaning up your patio will help you to assess the space you have so that you can determine what needs to be done, and what you need to purchase in order to improve your outdoor space. So, you will have to trim the trees in it, get rid of dead plants, and repair all the patio furniture that needs repairing. Taking this first step will improve the view, and maintaining your yard will also enhance its overall appearance and will give the inspiration for your next steps.
2. Create an Outdoor Living Room
If you want to start with something easy then you should create an outdoor living room for your yard. This will be a great idea especially if you have a covered patio. Moreover, you can use it as an exterior room to expand your home's square footage. There are so many things that you can add to your outdoor living room like comfortable chairs, a table, and an outdoor rug. If you have more money to splurge, you can also add fancy features like a fireplace or a water feature. This will be a great place to entertain your guests when they come over, even during the winter.
3. Add Patio Lights
If you want to increase your yard's appeal then you should consider adding patio lights. Some people opt for lanterns as they are playful and can be a great decor. The reason many homeowners prefer to add outdoor lights to their yards is that lights make the area feel safe so people can spend more time outdoors. There are so many ideas besides lanterns that you can choose from, like stringing lights, accent lights, or walkway lights. Adding lights to your outdoor space will also create an intimate atmosphere that is perfect for social gatherings.
4. Add a Built-in BBQ
Many people see the benefits of adding a backyard kitchen, but it can be expensive and time-consuming. If you are looking for something simpler, then you can install a built-in BBQ which is a great idea especially if you love throwing BBQ parties for your family and friends. The BBQ will also be a great first step if you ever consider building a backyard kitchen, and it will enhance the appearance of your backyard as well. You can either hire a professional to install it or do it yourself if you have the time and skills.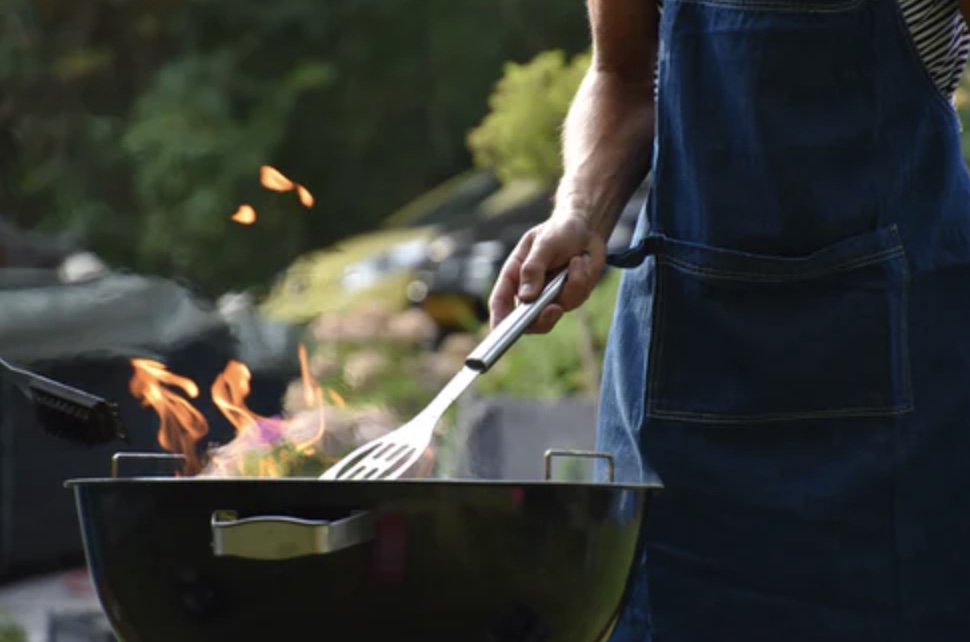 5. Build a Pergola
Just like the built-in BBQ, this is something that you can easily do yourself. Pergolas have so many benefits like providing shade and will also make it easy for you to create outdoor rooms, and since you can only create rooms outdoors on covered patios, pergolas are a great and affordable option. Small pergolas are easy to find in stores but if you want a big one then you either have to build it yourself or hire a carpenter to build it for you.
6. Maw Your Lawn
A well-designed backyard will not matter if it is surrounded by outgrown grass, it will definitely diminish its appeal. For this reason, it is essential that you keep your lawn maintained, and you can easily do this yourself by following the proper guidelines. You can also go online for information on how to grow healthy grass. However, if you find this task to be overwhelming, you can always hire a professional to do it for you. Deltona tree and garden care services are always open for doing this service for you but moreover, evaluate the condition of your lawn and share some tips and tricks on how you can always have green grass.
Your outdoor space is still a part of your home and since it is the most visible part of your property, maintaining it and making it look good will have a huge impact on the house's appearance. It will also increase its value if you ever consider selling it. It isn't hard to improve your backyard's appearance, all you need to do is create a checklist with all the tasks that you need to do, divide them into mini-projects, and go from there.